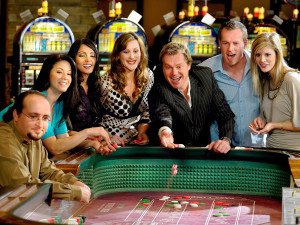 Casino Nights are casino parties which is the coolest way to experience Las Vegas casino action without any risk of losing your shirt. We'll bring the games, the dealers, and the excitement…and you'll have all the fun!
When your guests arrive, they are issued a pre-determined amount of Casino Chips.  Your guests will then go to their favorite table and present their chips to the dealer and start having fun. [If a players runs out of chips, we recommend simply letting the dealer give the player more chips. This way, everyone has a good time.]
Casino parties typically last about three to four hours, however three hours tends to accommodate more than 90% of the parties. At the end of the night, the chips are usually turned in for raffle tickets. However, not all parties need to have a prize at the end. Some parties are strictly just for fun and entertainment.
If you decided to give away a prize(s) at the end of your event, here are some of the more popular ways to do it:
Highest Chips Earner – The person with the most chips at the end of the event wins a prize.
Straight Raffle – Everyone cashes in their chips and receives raffle tickets. All of your guests are entered into the raffle.
Chinese Raffle – Everyone cashes in their chips for raffle tickets. Guests will drop one half of their ticket into a bowl in front of the prize or prizes they want to win. Each prize has its own bowl. Guests can drop all of their tickets into one bowl or split them up between a number of prize bowls.
Another way to win prizes is to have an auction for them. At the end of the evening, a player is issued a voucher for his or her winnings and then they have that amount available for bidding on the prizes. The straight raffle and the regular raffle are the more popular prize ideas!